Breakfast is included in all prices. Dinner can be served if booked in advance, we can also provide you with packed lunch.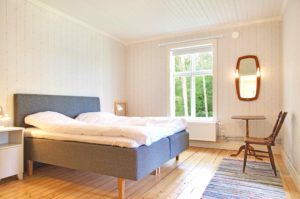 Family room:
Two rooms next to eachouther, with a door between them, a double bed in the big room and one bed in the smaller room.
Price: 1500SEK per night
Double room:
Two rooms with beautiful view, with 2*90cm beds.
Price: 1100SEK per night
Single room:
One room with a 120cm wide bed.
Price: 550SEK per night